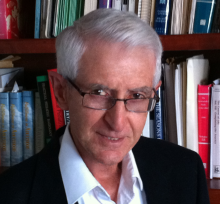 We invite the San Diego mental health community to join us in paying tribute to Calvin Colarusso, MD 
at 6 pm on Saturday, November 14, 2015 at the Morgan Run Club and Resort in Rancho Santa Fe.
Dr. Colarusso has contributed greatly to the education and career development of many mental health professionals in his more than 40 years of teaching in San Diego.  He is a Training and Supervising Analyst in child and adult psychoanalysis at the San  Diego Psychoanalytic Center and an internationally known lecturer to students, professionals, and the general public on many aspects of normal and pathologic development. 
Dr. Colarusso also served for two decades as Director of the Child Psychiatry Residency Training Program at UCSD. His books have been published in English, Korean, and Spanish.  And he has published over 50 articles in peer-reviewed journals. 
The evening will feature a cocktail hour starting at 6 pm followed by a 3-course dinner, a short program led by Master of Ceremonies Haig Koshkarian, and music by G-Sharp Entertainment. 
RESERVE HERE (through PayPal)