SDPC SPOTLIGHT: Haig Koshkarian, MD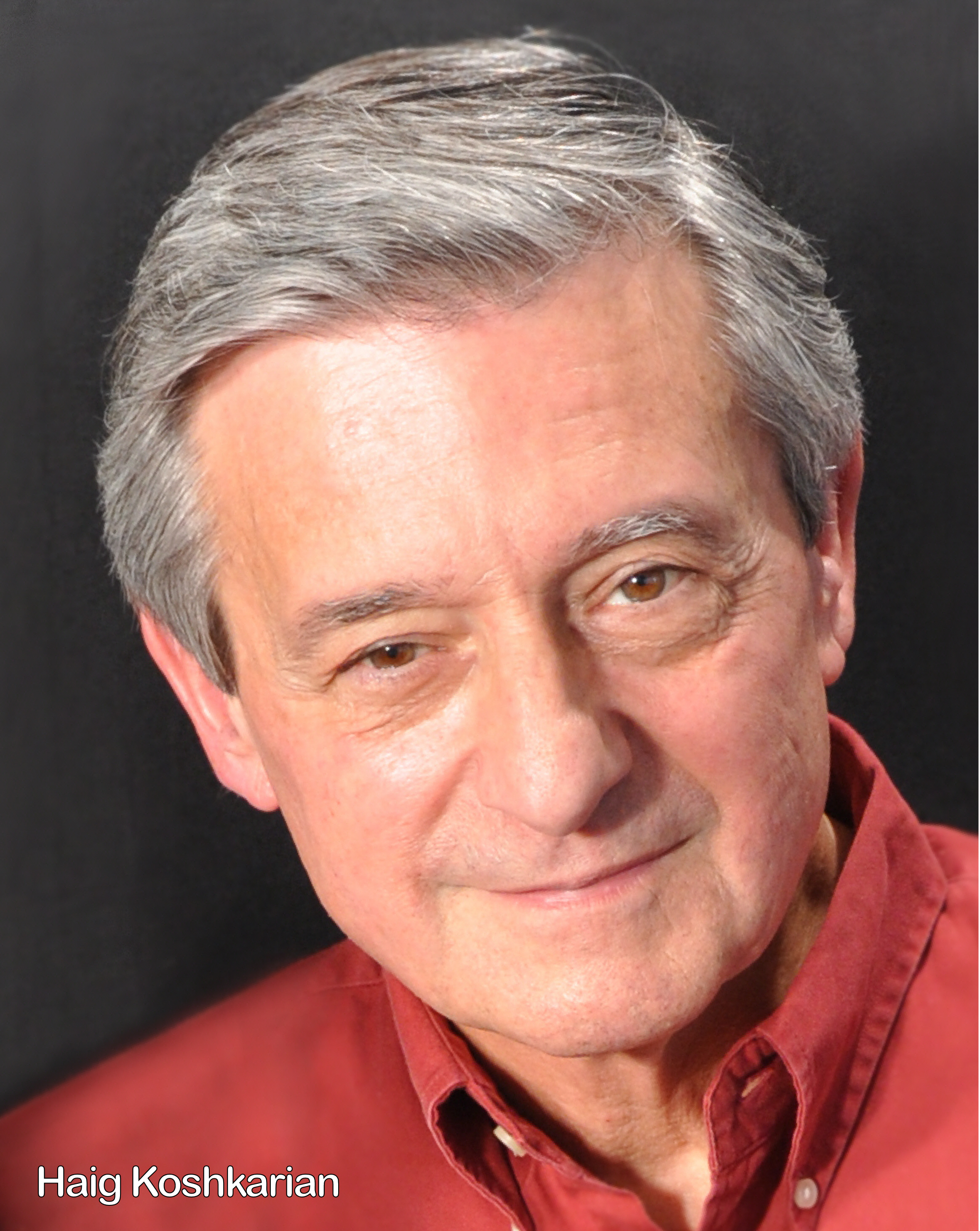 Dr Koshkarian is a Senior Faculty member and Past President of SDPC. Away from SDPC, he has been on the Clinical Faculty UCSD Department of Psychiatry and is a Past President of the San Diego Psychiatric Society.
You were a member of the very first analytic training class in San Diego in 1970. 
That must have been very exciting. 
Yes, I was. But you didn't have to mention the year. And it was exciting. I think it was even more exciting for our instructors, local psychoanalysts who themselves had migrated to San Diego from other parts of the country hoping someday to have a Psychoanalytic Institute in San Diego. Some of them in their enthusiasm would sit in on classes they were not even assigned to teach. Their excitement added to our experience and sense of being part of psychoanalytic history in San Diego. Most of us candidates, as we were called then, had not come to San Diego because of the Psychoanalytic Institute. Rather, we had been invited by Uncle Sam. It was the Viet Nam War years and the then doctor draft bought us to serve for two years at the Navy bases in San Diego. But the opportunity to get psychoanalytic training here certainly played a part in our decisions to remain in San Diego.
What lead you to seek psychoanalytic training?
The short answer was to become the best psychotherapist I could be. During my psychiatric residency training at the Menninger School of Psychiatry, which like many residency programs at that time was psychoanalytically-oriented, we were immersed in psychoanalytic readings and theory and supervised psychotherapy. Most of our teachers and supervisors, psychiatrists and psychologists, were psychoanalysts or psychoanalysts in training whether they devoted their time to outpatient or inpatient work. In this, we residents had before us the model of psychiatrists and psychologists who found psychoanalytic training important and valuable to them in a whole range of professional settings and identities.
And we were encouraged to think that however much we had learned about psychotherapy as residents that we needed more of something after we graduated. It might be informal such as our own psychotherapy or psychoanalysis combined with getting private supervision from an analyst in our community. But if available, formal training at a Psychoanalytic Institute was best. We were warned, however, that when going through the application process and interviews that we not make explicit that we sought psychoanalytic training to become full service psychotherapists. True or not, we were advised that to speak of such things could diminish our chances of acceptance at a time when purists in many Psychoanalytic Institutes felt that the best candidates were those who aspired to doing psychoanalysis each day from morning to dusk.
And how have you made use of your psychoanalytic training in your professional life in San Diego?
Pretty much as I anticipated I would when I applied for psychoanalytic training. My identity as a psychoanalyst has been important to me, and I take it with me wherever I go in my professional life. But while I continued to do four times a week psychoanalysis, the majority of my practice has been psychoanalytically informed long and short term psychotherapy, intensive and exploratory as well as supportive. It has confirmed for me the essential place of a psychoanalytic understanding of the interconnectedness of the past and present lives and relationships of our patients in our work with them. As I had hoped, my psychoanalytic training has been invaluable to me in a whole range of settings including teaching and supervision of others.
 
And, incidentally, the wish to use psychoanalytic training for a whole range of psychotherapeutic work has since become more explicit, acknowledged, and accepted by Psychoanalytic Institutes. This has included the formation of formal Psychoanalytic Psychotherapy Training Programs in many Institutes. Ours was one of the first. In general, it has become recognized and appreciated in most psychoanalytic training programs, certainly ours, that applicants for training whether it be in our psychoanalytic or psychotherapy program come for many different reasons. And whatever their professional direction, they will be better at it having had psychoanalytic training.
What has your continued involvement in the San Diego psychoanalytic community meant to you?
It has been a central part of my life, both professional and personal. I have continued to grow professionly from my relationships with students and members as part of our training and continuing education programs. In a larger and relational sense, the psychoanalytic community has been like an extended family for me. A bit like my own small town in which I have made lifelong friends.
And as in most large families, everyone does not always get along or agree. Like any alive and vital analytic community, we have had our differences of opinion and personality. But, hey, what's the matter with a little conflict and drama, especially if it is out in the open? I would add that over the years, the tone and mood of our Psychoanalytic Society and Institute has continued to improve with an even greater respect for differences of ideas and opinions. For me it has been both an exciting and friendly community to be part of.
I notice you often refer to the San Diego Psychoanalytic Center as the San Diego Psychoanalytic Society and Institute.
Yes, I guess I do. And it is not because I don't recognize that it is the same organization and community that I have been involved with all these years. Just a different name. But when referring to it in our conversation, not just in the present, but as something I have been involved with for well over 40 years, I can't help but refer to it and think of it as the name I have known it by. I must admit though that I also sometimes miss in our name Society, a time honored term for a scientific and collegial organization of like professionals; and Institute, a time honored term for a place of higher learning. But I appreciate and recognize that our new name, the San Diego Psychoanalytic Center, reflects a wish to indicate a welcoming and inclusive place where a whole range of psychoanalytic activities—scientific, educational, and collegial—are happening. And that is very much so.
In recent years you have taken up the life of an actor and appeared in productions at local professional and community theaters.
Did your psychoanalytic background play any part in this?
In one sense, no. My involvement in theater, which goes back to high school and college, preceded my psychoanalytic training. And I never stopped wishing to again be on stage (and you can make your own observation and interpretation about that). But it was not until I began to reduce my practice and teaching that I returned to theater. But to your question, in another sense , yes. As you can imagine, my psychoanalytic background can add a depth to my understanding of the roles I play and their relationships to other characters in the play. And, maybe a depth to my performance. But I must tell you that many of the really good actors I have met have an innate sense and sensitivity to the psychodynamics of personality and relationships. I should also tell you that some of my patients have accused me of acting for years, In jest, of course.
Is there anything else you would like to say about our psychoanalytic community?
Yes, and I will refer to it by what we now call it, the San Diego Psychoanalytic Center. The name is beginning to grow on me. I think the SDPC is made up of a pretty remarkable and dedicated mix and community of people, all of whom give literally hundreds of hours of their time year after year to the life and work of the SDPC. Except for our office administrator, we are totally a volunteer organization that depends on our members to fill all teaching, organizational, leadership, and committee positions. And for giving all this time, we also get to pay membership dues and make additional financial contributions as we are able. That our members do all of this reflects, I think, both a dedication to carrying on the tradition and place of psychoanalytic thinking and education and that they feel they receive much in return collegially, educationally, and in a sense of community. In addition, I don't think there is any other group of mental health professionals in San Diego that gives more volunteer time to teaching in other educational and training programs in the community. I think there is much to be admired in all of this. And I have been proud to be a part of it for all of these years.